Acetone Files Indy Spot - InDecisive Speckled Formica manicure!
Acetone Files
Indy Spot - InDecisive Speckled
Formica manicure!
I made a new friend recently: Aleksandra of
InDecisive Nail Lacquer
! You'll remember she makes the awesome Speckled topcoat I raved about
here
. Anyway, we started talking, and she's made some neon colors of the black and white speckled topcoat idea! I had to get in on this. (Here are some swatches she sent me!)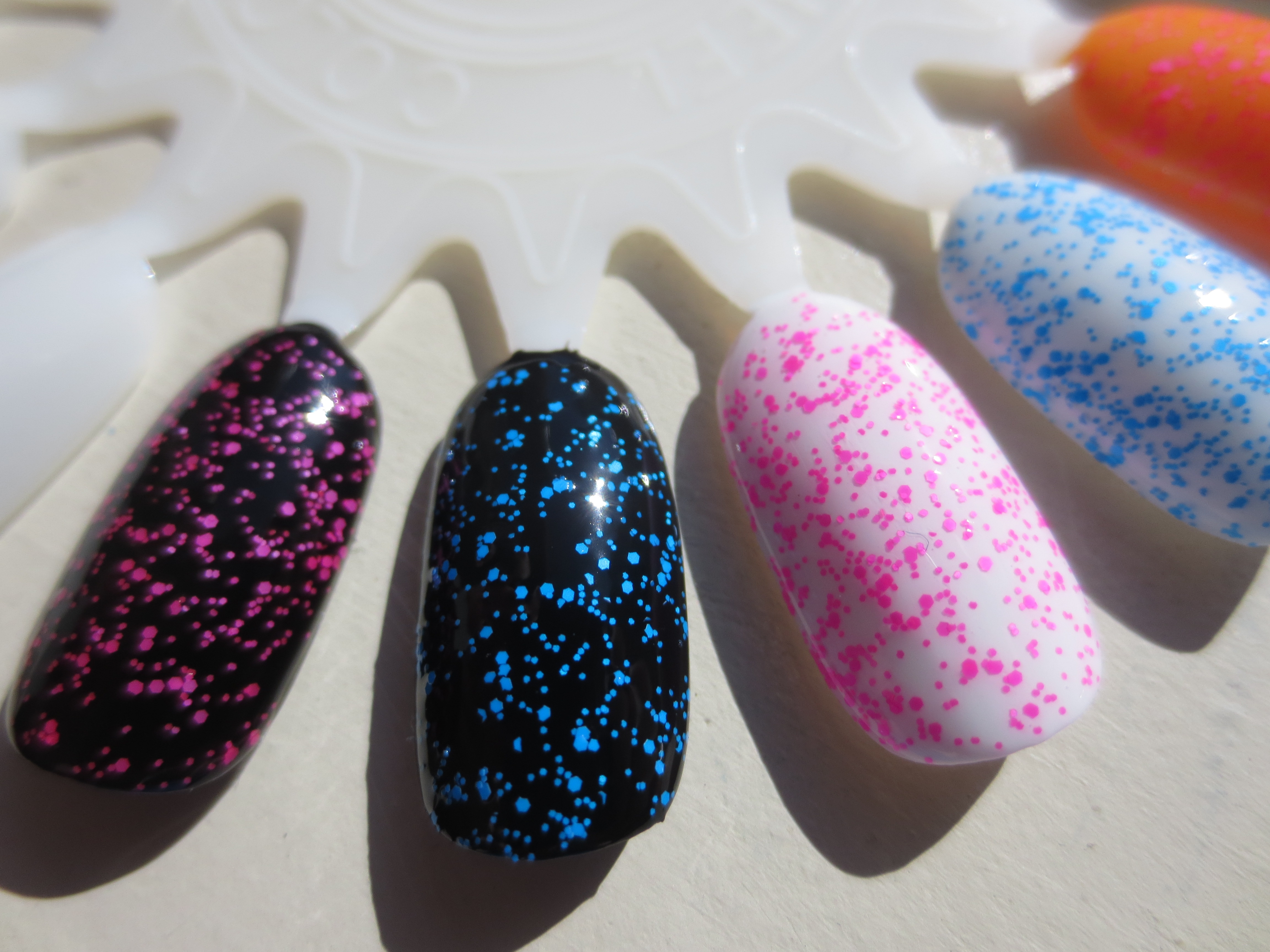 I ended up with several Speckled topcoats, including her new metal-shard
Antique
, which actually tarnishes over time, and a bday gift from the lovely Aleksandra, which I'll be swatching soon - In the meantime, I finally got Speckled White so I could do THIS ...
I have been wanting to do this since I first did
Black Speckled over white
- I saw the desktop in a classroom at college and had a brainwave. Using
InDecisive Speckled Black and White
together over grey, it looks EXACTLY like Formica! Fun thing about formica - the name comes from the fact that it's sort of like "sand". The latin "mica" means sand, or something like "speck". Formica was invented as a synthetic substitute
for mica
, which was embedded in things to give it a sandy or sparkly appearance. (And of course, mica is used in a lot of shimmer polish!)
Here's a bit closer up with the actual formica desktop. Sorry my photos are kinda blurry. As you know, my camera is crap, and even though I took about 20 pictures, this is the clearest one I got.
That's better! This one I took right after finishing the manicure, so there's still glue crud around the cuties (cuticles ... ?) but the great round confetti storm is really visible here. I thought about doing a tutorial for the Formica manicure, but frankly, it's a polish and two topcoats - all you have to do is get these polishes! I used
Covergirl Non-Stop Stone
as the base grey, because it's actually very warm compared to other greys, and I felt like the tabletop looked a bit mauvey. Also fyi, I put on Black Speckled first, then White over it. Underneath, I used the Elmer's glue base coat method, because like any glitter, it's hard to get off; on top, China Glaze Fast Forward, the easiest, quickest drying topcoat ever. :)
Currently Speckled Black and White are on the
InDecisive Nail Lacquer shop
in full size ($9.50 e) or mini ($5.75 e). If you're interested in the awesome neon ones as well, you can contact her through her shop.
Review
: What can I say? I loved these topcoats before I knew Aleksandra; I love them more now! The black version of this polish is slightly different from the white one (and the forthcoming others) in that it has 3 sizes of confetti while the white has 2 - there's a teeny microscopic size of glitter that comes in black but not others. I absolutely love the smallest size, but you really don't lose anything without it in the white. One of the things I like so much about these topcoats is how small the glitter is and how dense; try finding a hex topcoat in JUST black or white - you can't - but you really aren't going to find hex glitter this fine in topcoat form! (Why not, I have no idea.) These are just unique and fun; everyone needs at least one Speckled in their life LOL
A+